Foobie is a Furby fake that was manufactured by an anonymous company in China.
Appearance
The Foobie's are known to come in a few various color schemes . He has 2 wings, a wide beak, and big ears. His beak can also come in yellow or red. Two very strange strange versions of a Foobie are known to exist, including an all-yellow Foobie which has ears that look a like horns on the side of its head with small hands on each side like a Dubby, and a grey Foobie which has hands instead of wings. Fooby's eyes can be brown, or blue.
Trivia
He has different sensors than Furby's. He has a tickle sensor, a feeding sensor, a back sensor, a sound sensor, a light sensor, and 2 sensors in his ears that make him say "I don't feel good!" and "No good!" His voice is different from other Furby Fakes. It doesn't sound like Furdy or Poopi, but it's like a female young child's voice. It can sing "Twinkle Twinkle", but how a small child would sing it.
Gallery
Videos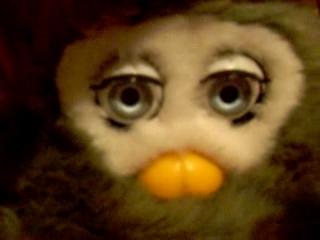 Community content is available under
CC-BY-SA
unless otherwise noted.