This article is about the toy. For the digital version in the app, click here.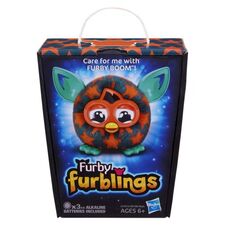 In late 2013, Hasbro introduced Furby Furblings. These tiny, adorable, and sweet creatures have a matching fur pattern to a Furby Boom, except the golden Furby Furbling.
Furby Furblings have lenticular plastic eyes that show different eye expressions when tilted up or down. They can only say a few pre-recorded phrases by pressing the top of their head. They can burp, giggle, cry. Virtual Furblings can be unlocked in the Furby Boom! app using codes on the Furby Furbling toys. Each Furby Furbling comes packed in a small rectangular package similar to a Furby Boom's box, but smaller like the Furby Party Rockers' boxes. Each Furby Furbling comes with three-button Alkaline Duracell 1.5 V batteries and it is easy to take the product out of its carton base.
The Crystal Series Furby Furblings based on the Furby Boom! Crystal series arrived in 2015.
List of Furby Furblings
Trivia
All of the regular Furby Furblings have the same voice and can say the same phrases.
Crystal Furby Furblings also have the same voice as regular Furby Furblings, but can say different phrases.
Furblings are a brand of Furby that was registered with the US trademark office in 2013.
Gallery
Sources
Community content is available under
CC-BY-SA
unless otherwise noted.