Pixy Named Furby is a Russian Furby boom knock-off that was released by a company called Jia Du Toys in 2014. The name of this Russian Furby fake (Ферби по кличке Пикси) translates to "Furby Named Pixy" even though Pixy is a bootleg and not an officially licensed product by Hasbro.
Appearance
Pixy comes in three colors: pink, blue, and white. Their fur color usually matches the color of their eye-frames and ears, but some Pixy's which come in white can have a pink set of ears and a pink eye-frame or a blue set of ears with a blue eye-frame. Their beaks can either be orange or match their fur color. Pixy's appearance is exactly the same as a Phoebe's appearance, but with minor differences. All Pixy's have eyes which have LED lights that flash red and blue. Some Pixy's have yellow stickers on each ear, resembling the holes regular Furby Boom's have in their ears. Like Noxy, there are no Pixy's that have LCD eyes.  
Functions 
Pixy's can make noises which different animals make, tell stories, play a game, teach English, sing Russian songs, play music, and like other Furby fakes, they can mimic your voice. They have three buttons underneath their fur which can be pressed for different features like telling stories or singing. Like a 2012 Furby or Furby Boom, they have a pet sensor, tickle sensor, and their tails can be pulled. Unlike 2012 Furby's and Furby Boom's, Pixy's have buttons in their feet which can be pressed. Some can respond to commands in Russian and some Pixy's may come with a remote control that looks like a plastic phone with pictures of Furby's on it. Buttons on the remote control can be pressed to perform any of its features such as singing, story telling, etc.
Pixy's App
Like Furby Boom, Pixy has its own app which can be downloaded from the App Store. The app was created by Toy Cloud Networking Technology and is similar to the Furby app. Through the app, you can feed Pixy, get Pixy to imitate the sounds of animals on the app or play music on the app. The app also has a virtual Pixy in it which can be interacted with by poking it. While interacting with the virtual Pixy on the app, Pixy will respond.
2019 version
Another version of Pixy was released in 2019. It comes in a gold cardboard box with a gold Pixy on the front and a logo. The box art for this version of Pixy was inspired by the box of the golden Furby Furbling. This version of Pixy has ears that are more translucent, colorful stars in its fur, and feet made from a different material. This version of Pixy doesn't have stickers on its ears that are supposed to resemble the holes Furby Booms have in their ears. Only white, pink, and blue variations of the toy are known to exist. No actual photos of a gold one have been found. The 2019 version of the blue Pixy has a shade of blue for the tip of its tail that is different from a regular blue Pixy's tail tip.
Trivia
Some Pixy's can have the top part of their beaks missing or loose when new in box.
Jia Du Toys has sold a bootleg Furby phone which looks exactly like a remote that belongs to Pixy, but it is not known if they are compatible with some Pixy's.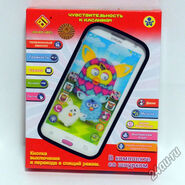 Gallery
Videos
Community content is available under
CC-BY-SA
unless otherwise noted.