This page is for displaying images and information of official Furby websites, at its different stages.
Furby.com (1998-1999)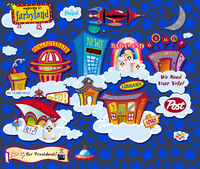 Cliffhanger Episodes
Cliffhanger episodes were made by xBx Channel Media, and released on the Furby.com website. 
Furby.de (German) (1998-1999)
The German site for Furby. This site gave various info about Furbys released at the time, like a Furbish to German dictionary, Furby news, Tips & Tricks, etc., and had various activities you could do by navigating through a town-like setting called "Furby Town", which also gave information about Furbys. A snippet of a german Furby song had also been included on the site, but unfortunately hadn't been archived.
Tomy.co.jp/Furby (1998-1999)

TOMY's Japanese site for Furby which gave info about Furbys released at the time in Japan, news about Furby related events and other promotions.
Hasbro.com/furby (2005)
English site promoting Emoto-Tronic Furbys and the Furby Island film. Click here for the archive.
Furby.de, hasbroiberia.com (Spanish) (2005-2006)
A flash site which promoted the toys and movie through an interactive island, with various things to do like play games, watch videos (the only available video being a Spanish advertisement for the 2005 Furby), and an activity where you take care of a Furby, but very different from Feed my Furby, whereas you're taking care of a photo of a real Furby with multiple expressions as you brush it, take it's temperature etc.
Community content is available under
CC-BY-SA
unless otherwise noted.