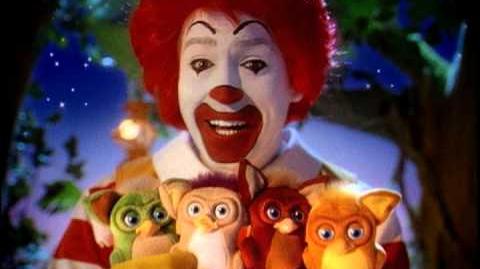 McFurbys are the name given to Furby toys released in McDonald's Happy Meals.
1999 Toys
80 total.
From March 26 to April 22, 1999, McFurby plastic toys were released. They were based on 1998 Furbys. There were 8 series with each series containing 10 Furbys. Each series introduced a new action. A total of 8 different actions and 80 to collect were released.
2000s Keychains
12 total.
From March 23 to April 13, 2000, McFurby stuffed keychains were released. They were based on 1998 Furbys. There were twelve to collect. The names of the different variations are Tiger, Tree Frog, Elephant, Monkey, Raccoon, Lamb, Giraffe, Fox, Dinosaur, Owl, Cow, and Diamond Back Snake.[1]
2000s Plush Dolls
During 2000, McFurby plush dolls were released in the UK. They were based on 1998 Furbys. They were quite large for a McDonalds Happy Meal Toy. The second series in the UK were Furby andShelby dolls that would sing with each other via a sensor in their feet.
2001 Keychains
8 total. The keychains were sold at McDonalds in 2001 in Japan and Thailand. The purple keychain's stomach will display a red light-up heart when it is squeezed.
2005 (Burger King)
Main article: Burger King Furby Toys
100 total. Came with pet carrier.
During 2005, Burger King Furbys were released. They were based on Emoto-Tronic Furbys. There were 100 to collect in Burger King. Each one came in a mini pet carrier. These toys have eyes that can move when they are lying down or tilted back, and they can wiggle their ears when a button on their back is pressed.
2006 Musical McDonald's Furby Toys
8 total.
During 2006, McFurby plush toys were released in Latin America. There were 8 to collect. Each one plays a different tune when its stomach is pressed. The name of the McDonalds promotion was "Meu Querido Furby" which means "My Dear Furby". These plushes could have two face variants: Either they have their eyes looking down and their beak closed, or they can look straight forward with their beak opened. Each plush could have different eye colors.
2006 Non-Musical McDonald's Furbys
Sold only in 4 variations.
These were non-musical plushes that each had a different accessory such as a backpack, shades, or a scarf. The purple and green Furby wearing shades appears to be based off a Funky Furby, but it has no tail. They are known to have been sold in a few different places in Europe.
2013 McFurby Boom Toys
6 total.
In December of 2013, McFurby Booms were released. They were based on the Furby Boom line, and each had lenticular eyes. They had differing qualities such as the Peacock's Party Rocker-like qualities or the Wave's googly eyes. In January 2014, McDonald's from Latin America released Furby 2012 toys. There were 6 to collect.
2013 McFurby Boom Plush Dolls
4 total.
2016 McFurby Connect Plush Toys
8 total.
From November 30, 2016, to January 10, 2017, McFurby Connect small plush toys were released in the UK. They were based on the Furby Connect line. There were a total of 8 Furbys. Of these, one pair of Furbys were available each week: Purple and Teal in week one, Yellow and Pink in week two, Orange and Black in week three, and Red and Blue in week four. The fifth week they would give a random Furby depending on stock. Using the Furby Connect World app, you could scan the egg image code on the McFurby toy tag to unlock a virtual Furbling egg. Each toy came with a mini booklet to tell you how to scan the code.
| Name | Egg unlock | Description |
| --- | --- | --- |
| Purple | Panda | This Panda Furbling loves to bounce high in the air when tossed around! |
| Teal | Dino | This Dino Furbling roars loudly to remind everyone who's in charge. |
| Yellow | Tiger | This Tiger Furbling's fearsome roar is the loudest in the jungle! |
| Pink | Panda | This Panda Furbling is just full of cute little sneezes! |
| Coral | Panda | This Panda Furbling is training to become a professional burper! |
| Black | Dino | This Dino Furbling is always ready to show off super slick dance moves! |
| Red | Dino | This unusual Dino Furbling is on a strict no-meat diet! |
| Blue | Tiger | This Tiger Furbling wins the High Jump competition every year! |
2016 Sonic Drive-In Toys
6 total.
During 2016, US Sonic Drive-In released 6 hard plastic Furby toys. They were based on the Furby Connect line. You'll be able to scan the Furby QR code, similar to the Furby Boom codes scanning. The eyes are lenticular and change expressions when tilted.
If you download the Sonic Wacky App and enter the code shown on the booklet, you can unlock stickers to put on photos.
| Name | Code | Expression |
| --- | --- | --- |
| Coral | Reef | Big Eyes |
| Blue | Sky | Closed Happy Eyes |
| Purple | Grape | Happy Eyes |
| Glow-In-The-Dark | Light | Sparkly Eyes |
| Pink | Flower | Heart Eyes |
| Teal | Sea | Wink |
2019 McDonald's Happy Meal 40th anniversary toys
To celebrate the 40th anniversary of Happy Meals, McDonald's released remakes of older versions of individual happy meal toys, which were available from November 7th to November 11th. The Happy Meal release included one of the variations of the McDonald's 1999 Furby toys. This version appears to resemble a series 2 number 7 McDonald's Furby, though has slight differences in the design, most likely so the two versions aren't confused for each other. On it's packaging, it states it's from 1998, even though the first McDonald's Furbys weren't released until 1999. Other toys in this release included:
Hamburger Changeable (1987)
Cowboy, Mail Carrier and Firefighter McNugget Buddies (1988) (each being separate toys you could get)
Happy Meal Dinosaur Changeable (1990)
Grimace Figurine (1990)
Hamburglar Figurine (1995)
McDonald's Thunderbird Racecar (1993)
Bugs Bunny Space Jam toy (1996)
Patti the Platypus Teenie Beanie Baby (1996)
My Little Pony Lightheart toy (1998)
Red Power Ranger figure (1995)
Hello Kitty toy (2013)
Tamagotchi Keychain (1998)
Mickey Mouse fantasia figure (2002)
101 Dalmatians Car (1996)
(The toys above are listed in order of toy number, and not in the order of year released)
References
Community content is available under
CC-BY-SA
unless otherwise noted.